How to prepare, impress and secure a training contract
28/03/2019: This guide has been revised to prepare candidates for 2019 vacation schemes.
Vacation schemes are intense.
You're in a new environment, with new people, working on tasks you may not understand.
You feel the need to be switched on, even at the social events, because you want to impress.
You're constantly trying not to make mistakes because you really really want to convert your scheme into a training contract.
I've been there. It's stressful. I made a lot of mistakes during mine.
That's why I'm writing this guide. To help you avoid the mistakes I made, and to make it clear you're not alone in feeling nervous.
I'm not an expert by any means, but I do have experience with vacation schemes. I did four and three turned into training contract offers.
By the time I started my fourth scheme, I had learned:
How to prepare for a vacation scheme
How to deliver good work
How to handle tricky situations and difficult people
What to expect in the final training contract interview
I know many of you have vacation schemes coming up, so I'll share these lessons with you. My aim is to help you convert your vacation scheme into a training contract.
Part 1: How to prepare for your vacation scheme
A. Research the law firm (again)
To convert a vacation scheme into a training contract, you need to convince the firm that you really want to work there. This is important: many candidates receive rejections because they fail to demonstrate their motivation.
Now, demonstrating your motivation goes beyond repeating rehearsed answers at interviews. During your vacation scheme, you'll be on show for everyone to see whether you fit at the firm.
With that in mind, the starting point is to re-educate yourself about the firm before you begin your vacation scheme. Make sure you understand the firm's:
Practice area strengths
International reach
Training programme
Innovation and technology
Training contract structure and secondments
You can use our fillable PDF here to keep this information in one place.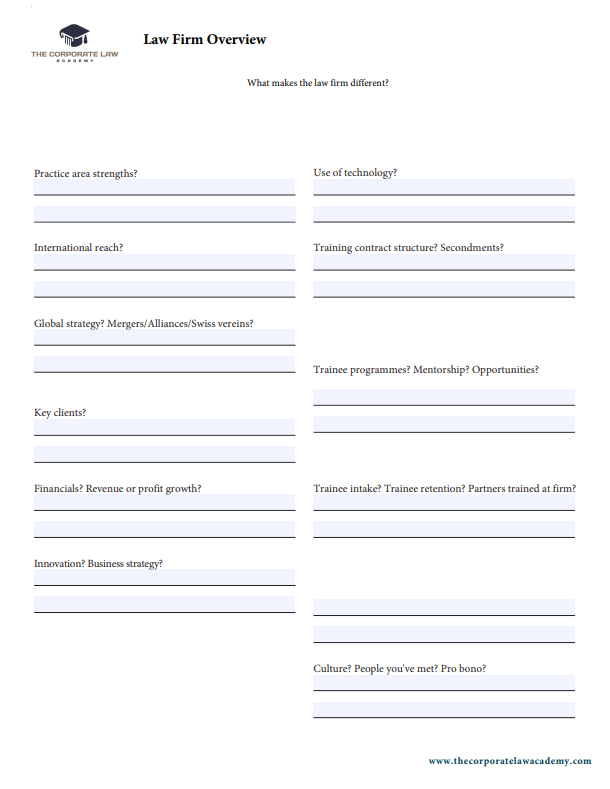 No need to memorise anything. The point here is to broadly understand the law firm before you start. It'll help you ask informed questions during your vacation scheme. You may even find – at a presentation or networking event – a partner is explaining something you've already read about. That's an immediate opportunity to impress.
It also stops you asking obvious questions.
Like the first question I asked my trainee buddy on a vacation scheme:
"So, why did you choose corporate as your first seat?".
 "They haven't told you? We don't choose our first seats".
 "Oh…"
Now, don't get me wrong, it's not the end of the world to ask questions like that, but it's something you can avoid through some basic research. You want to be the candidate who seems like he or she fits at the firm, the one who shows potential. That starts from being informed.
What should you research?
Look for any big deals that have taken place in the London office.
If you know your department, research any recent important deals they have completed.
Look for events that have taken place at the firm: have there been any lateral hires? New offices? A merger?
The law firm's website, Legal Cheek and The Lawyer are all good sources to find out that information.
B. Review your vacation scheme application
Remind yourself why (you said) you applied to the firm and what you've told recruiters about yourself. Remember who interviewed you during your vacation scheme – they should probably remember you because they vouched for you!
Reviewing your application will be important for your final training contract interview (see below).
C. Check and re-check your emails from the law firm 
Vacation scheme emails from law firms are exciting.
You'll learn what to expect on the first day, when to arrive, what to wear, where to go.
But make sure you don't miss anything out. It sounds obvious, but check and re-check what information you need to provide and where you need to be. It's easy to miss a small sentence at the end of the email, and you want to avoid making a bad first impression.
Sometimes, you'll be given a schedule in advance of your scheme. This is a good opportunity to plan your time. Check when your assessments are and when your final training contract interview is.
For one of my schemes, I had an assessment on the first day of my scheme and a final training contract interview by the end of the first week. This meant it was important for me to carve out time to practice for my interview.
At this point, you just want to make sure you're ahead of things. Vacation schemes are very stressful, so if you spend more time preparing now, you'll minimise the risk of last-minute surprises during your scheme.
D. Investigate your department
If you've already been told where you're sitting for your first week, do some basic research on your practice area. While it's not something you're necessarily expected to know, and it should be explained to you, it can help speed up your own understanding if you've reviewed it first.
For example, if you are banking: What is  a loan? What is a bond? What do banking lawyers do? Are there any current big news stories in the space?
You don't need to dig too deep, especially on this last one, just note down anything that catches your eye.
After that, do some law firm-specific research: Are there different teams within banking? Who are your firm's key banking clients? 
If you know more information about where you're sitting, you can also read up on your team: How is the department structured? What kind of work does your supervisor do? Who is the head of the team?
There's an easy way to do this. Head over to your law firm's website and find the list of practice areas. Usually, that's under a heading called 'Expertise' or 'Services'.
For example, this is the list under "Expertise & Experience" for Clifford Chance.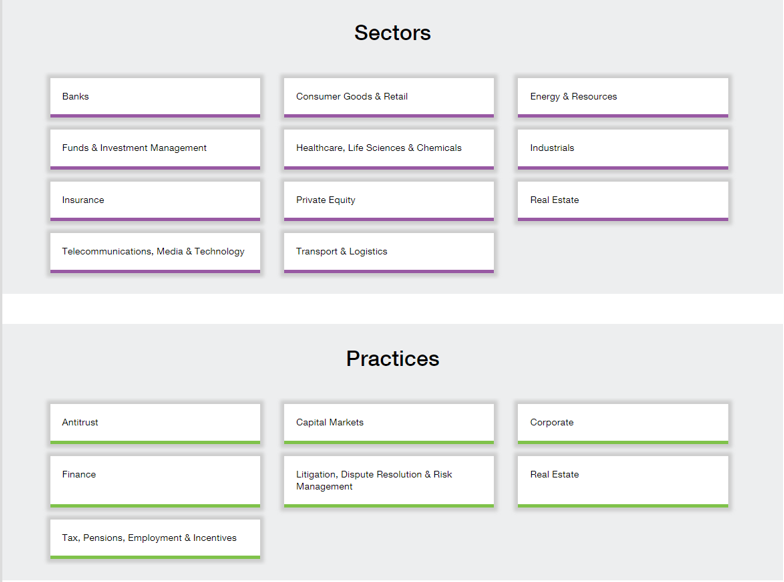 Now, for Clifford Chance, the practice area I want is 'Finance'. If I click on that, I get a lot of information about their finance practice.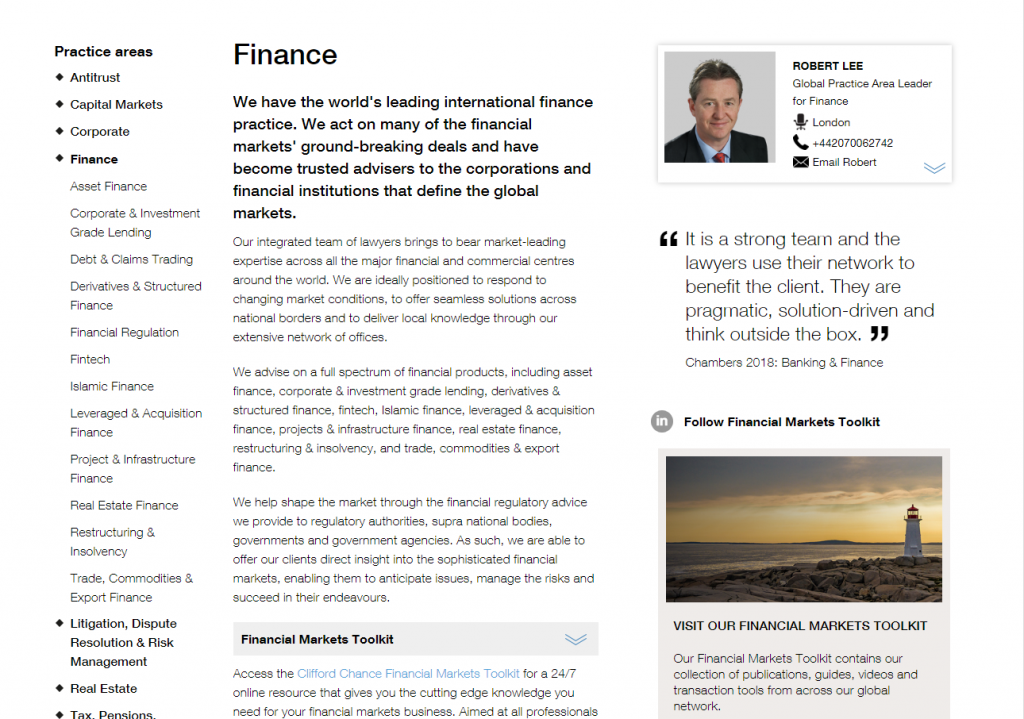 On the left, I can find the different teams within Clifford Chance's finance practice.
On the bottom right, I can head over to Clifford Chance's 'Financial Markets Toolkit', which shows the latest updates in the finance industry (and is a good example of how the law firm adds value to its clients).
If you know someone from the firm, ask for information about what the department you're going to is like and see if they can give you advice for the vacation scheme. Trainees who are already at the firm can be a source of great support, even if you just meet them for coffee during your vacation scheme to talk about how you are doing.
Don't know someone at the firm? Use LinkedIn. Over the past year, we've reached out to many trainees who have been more than happy to meet up with future vacation schemes at their firm. If you think this would help you, it comes down to being proactive.
E. Commercial Preparation
If you're anything like I was, you probably haven't followed the business news properly since your vacation scheme interviews.
Presuming you have a little time before your scheme, now is the time to get back to it. You may be asked commercial questions during your training contract interview.
If you haven't followed the news in a while, here's a quick recap of some of the "big topics" (2018):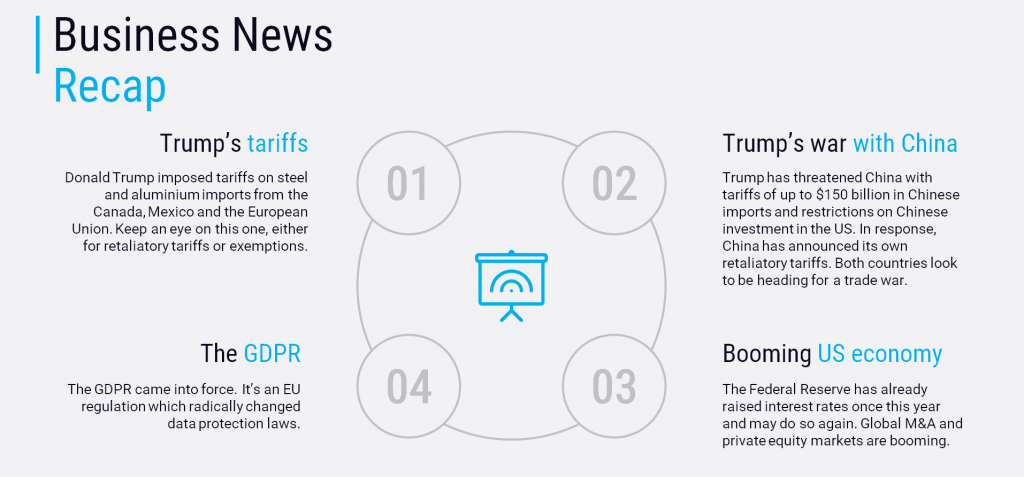 Plus, updated for 2019, keep an eye on:
The Brexit situation
The US trade war with China
The regulation of Big Tech
The demise of the high street
These topics are relevant for two reasons. First, if you head into your vacation scheme with a good understanding of the existing commercial environment, you'll be able to demonstrate a genuine understanding of the business world and have an opinion, if the topics come up in discussion.
Second, final training contract interviews often look to see how you handle commercial questions. These come in two forms. Either they'll ask you: "Tell me about a news story that interests you?", or they'll ask you directly for your opinion on a particular commercial topic. This is why it's important to keep an eye on the ongoing "big topics" because these topics are most likely to be chosen by law firms.
You won't have enough time to prepare for these questions during your vacation schemes. Instead, I suggest you devote a portion of your day (say, 30 minutes to 1 hour) to read the business news. If you take the small steps, you'll thank yourself later.
F. What to read to prepare for your vacation scheme
The "big topics"

China-US Trade War
Could the US win?
Impact on the car industry
Why is China devaluing its currency?
Impact of tariffs on businesses and law firms
Brexit
The UK Parliament votes on Brexit
Brexit updates, news and resources
Impact of Brexit on individual practice areas
Big Tech Regulation and Data Privacy
Lawyers' guide to Big Tech regulation
What is the GDPR
The impact of the GDPR on business and law firms
For detailed breakdowns of each of these topics, you can check out The Complete Commercial Law Course 2019.
Day-to-day commercial awareness
For day to day news, my go-to was the BBC News app during my train journey. It's brief, but enough to give you an idea of what's going on and good for following stories.
If I was applying today, I'd stay up to date with TCLA's commercial awareness writers who break down important news stories every week.
Commercial Awareness Update – January
Commercial Awareness Update – February
Commercial Awareness Update – March
You can keen an eye on their latest posts in our commercial awareness forum.
I'd also use these resources:
Finimize: They send one email a day and provide a clear, simple breakdown of the financial news.
The Economist: The magazine provides a weekly overview of the key political, economic and social issues around the world. It's opinionated (which is good for preparing for your interviews), but it can be technical. This is actually how I started developing my commercial awareness. Pro tip: if you're a subscriber and looking to learn more about a commercial issue, use the search function on The Economist's website, you'll be able to access all their articles on that particular topic.
The Economist and FT podcasts: These podcasts, among others, are a great way to get the key updates if you prefer the podcast format.
New York Times: This is a personal favourite of mine for breaking down global commercial news stories.
 Part 2: The first days of your vacation scheme
Surviving office life
I suspect most of you will have worked before, but maybe not in an office.
Some things you'll be used to, like sitting at a desk behind a screen for many hours of the day. Other things you'll grasp quickly, like using the office phones (PS: press 9 for an external call) or navigating your way to the right room at the right time.
My first vacation scheme was my first office job. So I'll talk about a few of the quirks within law firms that you may not know about.
A. IT Training
You'll soon learn that law firms use systems to manage their documents, which makes simple tasks like saving, emailing and printing, quite confusing.
These systems organise documents for a certain client and project (referred to as a 'matter'). So, when you try to find documents, save or print, you may be asked to enter a client and matter number.  Your law firm will explain how to sort this out for your vacation scheme.
You'll also find out about the law firm's internal web – the intranet – to find information about the firm. Here, you should find profiles for the lawyers at the firm, which is handy if you want to find out someone's name, where they're sitting or what they do.
B. Trainee Buddies and Making a Good Impression
Many of you will be assigned a trainee buddy to help you get settled.
These guys are important. Here's why:
Stuck on a task and think it's too trivial to ask your supervising partner?
Want to learn how to approach a particular senior partner?
Want to know how a partner typically likes the format of a piece of work?
Want "inside' advice on what makes a good vacation schemer?
The point is that trainee buddies are typically very willing to help you because they were in your position not long ago. If they seem approachable, try to develop a strong relationship with them. Check in regularly and invite them to coffee if they are not too busy. They're in a position to really make a difference to your vacation scheme experience.
Now, sometimes, your trainee buddy won't be available. Maybe they're busy or away from their desk, but you need help.
In that case, if you're spending a long time trying to format a table or fix the numbering of a report (I've been there), and you don't want to bother your supervisor with the issue, see if there's a nearby secretary that's available. Secretaries are also fantastic.
Introducing yourself to non-lawyers is also a good habit to get into, even if you don't need their help.
You'll bump into many of them during your vacation scheme. It could be secretaries and paralegals outside your office, IT staff walking the floor or know-how or research departments on your floor. Whoever it is, these are the people that law firms rely on to keep the business functioning.
The reason law firms have vacation schemes and not just interviews is to see how candidates operate in a work environment and fit into the firm.
People will notice the genuine conversations you're having around the office, and they may be asked for their thoughts; I know many firms send emails round looking for feedback on the vacation schemers.
Or, maybe you impress them and they send an email of their own accord.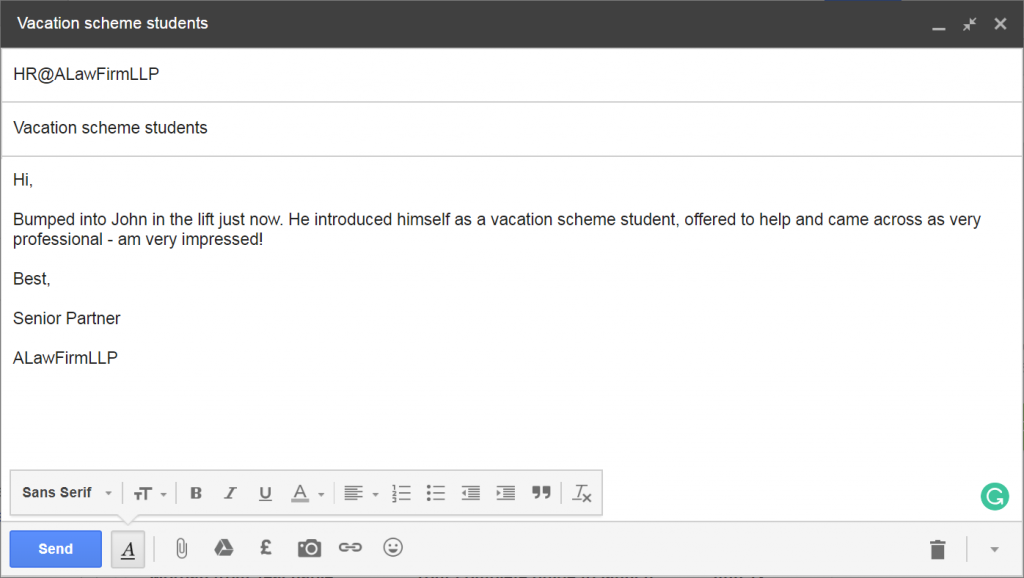 The first day of your vacation scheme will be your induction. The schedule differs between firms, but usually you will receive presentations from graduate recruitment. That's often followed by IT training and an office tour. You may also start in your department later that day, in which case, you'll meet your trainee buddy, your supervisor and the rest of the team.
C. Your First Day – MINDSET
Approaching the first day can be scary. There will be a lot of new information and many of you won't be used to this environment.
This is why your mindset is important. 
First of all, you should know it's quite normal to be anxious, or to feel like you're not supposed to be there. You may feel intimidated by the other candidates: Perhaps they've graduated from prestigious schools and secured multiple offers. If you don't have the same experience, it's okay to feel insecure.
For my schemes, I found the "fake it till you make it" concept to be reliable and effective. I don't mean you should be a fake person. No. That's the opposite of what will earn you an offer. What I mean is, say to yourself: "I am good enough to be here and I have a lot to offer". I mean: Trust that you were chosen to be on that vacation scheme, out of hundreds of applicants, for a reason. This idea helped me to drum up the courage to do whatever I was afraid of. It helped me to ask questions at presentations, lead a group activity, and push away the voice in my head that told me I was an imposter.  And I wonder now if some of those others who I worried about weren't likewise faking it, at least in part.
At the same time, you should also remember you can't be perfect. You are there to show them who you are. There are many ways to impress a firm, and you can do it by leaning on your strengths rather than trying to patch up your weaknesses. For example, if you are nervous around larger groups, focus on delivering the highest quality of work you can provide and developing a rapport with the people around you.
[divider height="30″ style="default" line="default" themecolor="1″]
 Part 3: Converting your vacation scheme into a training contract
A. Doing good work
In between the presentations, events and assessments on your vacation scheme, you will only have the time to complete a few tasks for each department. Because you have a limited opportunity to impress, it's important that you perform each task to a high standard.
That doesn't mean your work needs to be perfect. Far from it. What matters is how you approach the tasks, whether you take advice on board, and how you manage your workload.
Here's my advice for approaching the work on your vacation scheme:
1. Organise your work
Use a to-do-list to manage your workload. A to-do-list will help you to track tasks and deadlines, and plan your work over the course of the day. In the morning, before you start any work, write a list of things you have to do for the day. At the end of the day, you can tick them off or carry over work to the next day. This will help you to manage your workload.
Use a work-log to keep track of the work you're doing over the course of the week. Who did you work with? Who was the client? What did you do? What was the background to the task? What did you learn? Try to really dig into the work you did, and if you aren't sure about any of the answers to these questions, see if you can schedule some time to speak with the person who set you the work. When it comes to your training contract interview, you can use this information to justify why you want to work at the firm. This will also be helpful if you are asked questions about what work you did on the scheme.
Keep a notepad with you. Learning to write effective notes is a skill. For now, when you are being given work, focus on writing down the most important aspects of a task and flag up any immediate issues with the supervisor. Carrying a notepad with you when you are working in your department means you will be prepared to receive work as you move between offices.
2. Scrutinise your work 
Attention to detail.  Your supervisor may be lenient if you've missed details or used the wrong structure in your work: these are things you wouldn't be expected to know. However, one thing you can't do is submit a piece of work with spelling and punctuation mistakes. It looks sloppy, and it reflects poorly on your attention to detail.
Before you submit your work, take the time to print it out and correct typos. The extra 15 minutes is well worth the positive impression, and chances are, you will notice points that you didn't realise you had missed.
3. Use the appropriate language and structure
Ask yourself: What is the objective of the task? During my vacation schemes, I had to submit reports, memos and emails. Each time, I had to adapt my writing style and structure depending on who I was writing to. For example, if I was writing to a client, I learned to remove legal jargon and begin my report with a conclusion.
Use simple language and short sentences where you can, and try to be direct in your answer.  Where appropriate, use headings, sub-headings and bullet points to make your work easy to read. Try to work out what matters to the client most and have the confidence to discard what isn't relevant.
For legal research tasks, write down the sources you use in your report. That way, your supervisor can see how you arrived at your conclusions.
4. Manage your time
Manage expectations. Sometimes, you'll find yourself in a position where you have too much work to do. You can pre-empt these situations by asking the person who set you the work when he or she needs the work by. And if you don't think you'll finish it on time, speak to whoever set you the work. Communication is a vital skill. It's far better to give your supervisor notice than rush your work or miss a deadline.
If someone tries to give you work when you're at full capacity, be honest about your workload. Let them know what you're working on and check whether you can do it after. That comes across as professional and it gives you the opportunity to work on the matter later when you have more time on your hands.
5. Be proactive
Ask questions about your work. This shows initiative, gives you a chance to build a rapport with the supervisor, and it could lead to more work in the future.
If you're confused, make a start, and then check in with the supervisor to see if you're doing it right. Trainees do this in practice. It stops you wasting time and it shows you're proactive when you're not sure: rather than waiting to be corrected when you submit the work.
B. You don't need to be perfect
Law firms aren't expecting you to produce instantaneous, flawless results, or to successfully complete tasks on your own, without checking in with your supervisor. You might find a task confusing; you could include some wrong information. You forget your interviewer's name. Run late to an event. It happens. What leaves an important final impression is how you respond to and learn from those mistakes.
If you find yourself with too much work to do, ask if you can push back a deadline. Next time, ask when the work is due as soon as it's assigned.
If you're stuck on a task, that's fine. But don't just say you're stuck. Explain what you've done so far and what you find confusing. If the work is for a partner, consider asking a trainee for help, first. Ask for pointers on how to produce something the partner will like.
If you make mistakes in your work, try to understand where you went wrong. Ask if you can run through the task when the lawyer is free. Then prepare some informed questions. Next time, make an effort not to repeat that mistake. Make a note. Print the document out and proofread it. Check and re-check your work a few times.
These are the small things that impress. And when it's time to give feedback, an associate will not say, "she made mistakes in her report", but, instead, "she made mistakes in her report, but she was quick to learn from them'. That's the kind of candidate who makes a good trainee.
C. How late should I stay on my vacation scheme?
Only stay if you have work to do. I hear this a lot: candidates often feel like they should stay late because they want to impress. That's unnecessary and it doesn't impress. It's definitely good practice to ask your supervisor if there is anything else you can help with. And you can leave a little time to complete your to-do list or work-log, but after that, you should leave. Vacation schemes can be exhausting, and it's important you give yourself time to rest.
D. Vacation scheme socials and networking events
Law firms will have social events during the vacation scheme and my advice is to get stuck in. It's an opportunity to get to know the other people on your scheme – and often trainees – in an informal setting and you can show the law firm what you're like outside the workplace. You shouldn't be in the situation where you can't attend a social event because of work commitments, but if you are, you should inform the relevant person why you can't make it.
At the same time — pace yourself. If you start acting unprofessional, word will get around quickly. You don't want to be another vacation scheme 'horror story' that trainees like to share.
There may be networking events during your vacation scheme. Here's my advice for networking:
Make a point to remember people's names at the start. If you find you have a good conversation with someone, send them a follow-up email. Give them an opportunity to remember you.
Be genuine. Sounds cliché and obvious I know, but I think it's worth emphasising. It's obvious when you speak to someone and they're not being sincere, or they're trying to sell themselves too hard, or they're trying to flatter you.
Strike a balance in your conversations. You don't just need to talk about work. That can make it easier to bond with the other person, especially as it's often a chance for them to have a break away from work for a short time.
People like to talk about themselves. Quite simple this one, if all else fails, ask questions. This is specially helpful if you're in a situation where you don't know what to say.
Ask appropriate questions. Remember, certain questions about the firm will be more appropriate for graduate recruitment compared to trainees or partners and vice versa. (For example, you don't want to be asking a senior partner about LPC funding!)
E. The final training contract interview
 My final training contract interviews had some overlap with the vacation scheme interview. The interviewer is looking to assess your motivation for commercial law and the firm, and you can expect competency and commercial questions.
Remember, you must justify why the firm truly interests you over other firms. This requires you to convince the firm that you genuinely want to work at their firm and that you would take a training contract with them if they offered it. (This is actually a common question asked by firms.)
Our TCLA moderator drew up a great list of areas to look at when trying to differentiate a firm:
In the final training contract interview, you want to especially draw upon your personal experience. Unlike direct training contract applicants, you've now been able to see what it's like to work at the firm from the inside.
Think about:
What did you learn about the firm that you didn't know before?
How did you find the quality of work that you did? How does this link to what you will do as a trainee?
How supportive did you find the people at the firm? Who did you meet that made a big difference to your vacation scheme?
Why do you think you would be a suitable fit for the firm?
You can expect some of these questions in your final interview, which is why it helps to do a proper review of your scheme. Firms also commonly ask motivation/competency-style questions, although these tend to be more informal now that you have experienced the firm. Still, it's important you treat it as an interview and clearly communicate both your motivation and your suitability for the firm.
F. Standing out during your vacation scheme
It's going to be a little scary, but remember, the firm has decided that you're a good candidate, that's why you're on the vacation scheme. Even then, you don't have to get everything right: schemes tend to be about not shooting yourself in the foot rather than being the perfect candidate. That means handling situations appropriately (communicating if there's an issue), conducting yourself professionally (especially on the socials) and being friendly and enthusiastic (it's very obvious when you're trying to be competitive).
Here's a summary of our top tips: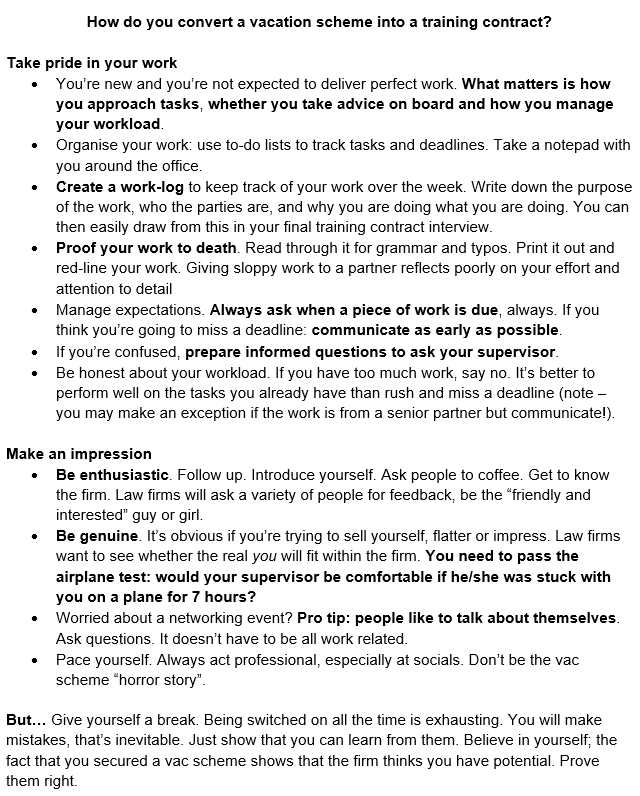 Part 4: Resources for your vacation scheme
Law firm resources
While on your vacation scheme, you will have access to variety of resources.
Common resources firms have access to include:
Practical Law: This is often the starting point for trainees. It's excellent for anything technical you don't understand in corporate law.
Westlaw or LexisNexis: You can use these on your scheme for cases and legal research.
Companies House: When you want to find out information about a company. Private companies have legal obligations to file information at Companies House, so you can find good information on directors/shareholders/parent companies or subsidiaries/annual returns (now called a confirmation statement).
Information Resources Centre/Library. I didn't actually use this during my scheme but I heard from other trainees that they did. These guys are amazing for the research-heavy tasks because they know where to look and how to use the firm's various third party services. You can then pick out what's relevant and provide a summary.
The firm's intranet. What you find here depends on the firm but generally it's a great way to find recent deals, awards and firm news. Many firms will also have department specific resources here.
During your downtime, you can also use these resources to find more information about the firm, specific departments and prepare for your final interview.
Our resources
1. Vacation scheme work log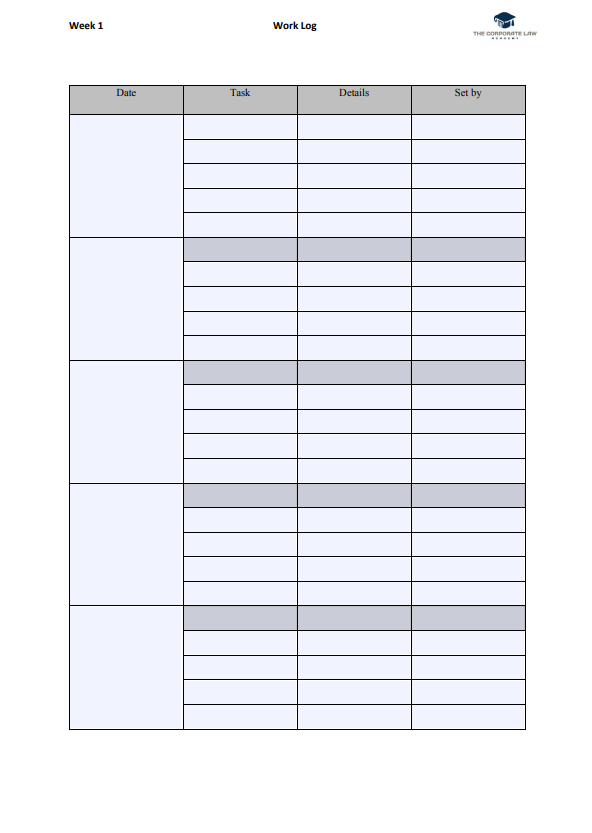 2. Access our case studies and interview resources
3. Join our vacation scheme forum 
4. Our list of existing vacation scheme experiences
5. Read our interviews with Rosie Watterson and Lewis Malkin.
Part 5: Top advice from other candidates
We've compiled the vacation scheme advice candidates shared in our forums. While these were provided as advice for particular schemes, the advice can equally be applied to other schemes.
Gibson Dunn vacation scheme
Throw yourself into everything the firm has to offer (the work, the socials, getting to know the people, the free-market system etc.). In my opinion, it's very much the case that you will get out what you put into the scheme.
Do not be afraid to go around knocking on the doors of associates to find work. The firm operates something called a free market system, which gives people a degree of autonomy to seek out people with whom they want to work with and the types of matters they want to work on. (Not quite as broad a scope as a non-rotational system but is rewarding for proactive individuals). My first seat supervisor did not have much work she could give to a vac schemer because everything she had required prior training, and in my second seat, my intended supervisor was in hospital until the second-to-last day of the scheme. Knocking on doors around the office gave me a good chance to speak to new people and I ultimately completed work for 10 different people. It was quite a scary thing to do at first, but once you've done it once, it becomes so much easier.
Try to have a results-oriented mindset. Make sure all the work you do is as good as you can make it and do not be afraid to ask questions when you don't understand something. People are friendly and happy to answer questions. Your supervisors provide extensive feedback on the work you do and if you do work for other people at the firm, they will give your supervisor feedback about your work too. Any negative feedback you receive will impact your chances of securing the TC. The assessments are always incredibly important. Your assessments are scored, and a bad assessment can affect your chances of securing the TC.
There are some people at the firm with incredibly interesting stories to tell who can give you great advice – don't be afraid to just knock on doors/go for coffee with them and pick their brains.
As you might guess, the vac scheme is an incredibly intense experience. There were 19 people on the scheme (someone had dropped out having secured a TC elsewhere) and everyone had their eye on securing one of the few training contracts available (there's an intake of 8, but 1 had supposedly been allocated for straight TC applications and 1 had been given to someone from the previous year). Try not to be overly tense about this and just enjoy what the scheme has to offer. You don't want to be that shy person who never speaks, but you also don't want to be so worried that you mumbles and bumble everything you say.
The firm also places a huge emphasis on culture, so be nice!
Allen & Overy vacation scheme
Be yourself, be friendly, ask lots of questions both at the workshops and in the office with your supervisor as this shows you are interested. Try to get involved in the firm's activities outside work such as the choir or football, although this isn't compulsory. Use the gym, and the roof gardens. They are great! Try to keep a note of the tasks you do for your own records and for your CV.
HFW vacation scheme
My advice would be to put a lot of emphasis on the assessments because they all seem to be very important in determining whether you get a TC offer.
The feedback they get from your supervisors on the written work that you do is also really important. It's better to spend a lot of time on a task and to do it to the best of your ability than to do it quickly but badly. Sometimes I felt like I was spending a lot of time doing something but then the feedback I got was really positive and didn't criticise me for spending too long on it.
Linklaters vacation scheme
Ask constructive questions. Be proactive in seeking out work.
Reed Smith vacation scheme
Read up on the firm's recent deals and new initiatives. Make sure to ask questions and always be enthusiastic and engaged, even for the boring workshops! Get involved in socials such as sports teams while you're at the firm if you have an interest in sports and make sure to be polite to everyone from Partners to support staff as everyone can relay feedback to graduate recruitment. Double and triple check all the work you submit and don't be afraid to take the initiative to introduce yourself to everyone on your floor.
Slaughter and May vacation scheme 
Have an eye for detail, and take the time to do your application properly. The covering letter if your only opportunity to properly express why you are a good fit, so give it your best shot. Read carefully, ask for the deadline as soon as you receive a task, don't be afraid to ask your Trainee buddy for assistance and see if you can lend them a hand too.
Sidley Austin vacatino scheme 
The final training contract partner interview is really important. To be honest I think it's pretty much make it or break it so make sure you really focus on this, they definitely put a big emphasis on it when it comes to making the final decision. This is a shame because it kind of defies the point of a vacation scheme (supposedly getting a more rounded picture of you) but it's understandable when the firm takes so few trainees. In terms of preparing, this is kind of difficult as you don't find out what departments you're in until the first day. So I think focus more on mentally preparing yourself for being in a professional.
Good luck!