This guide has now been updated for 2019 training contract applications! Get your training contract application reviewed here.
When I first applied to law firms, I received few interviews and many rejections.
I blamed those rejections on lots of things. My grades. My lack of legal work experience. My generic extra-curricular activities.
I asked myself, was I good enough for this?
After that first round, I spent a lot of time learning about application technique. So when it was time for my second round of applications, the process went better.
In that second round, I secured interviews with 13 law firms.
I'm writing this guide to teach you everything I've learned, both from my own experience, and from personally reviewing over 500 applications.
In short, the aim of this post is to teach you how to write a successful training contract application.
Did you know we offer a thorough application review service, tailored to the firms you apply to? Check it out here.
Why is application technique so important?
If you're reading this, then I'm sure you know how competitive the process is.
Many commercial law firms receive over 1,000 applications for vacation schemes and training contracts, every single year. And only a handful secure interviews.
For example, take a look at the application to interview ratio for the sample of law firms below.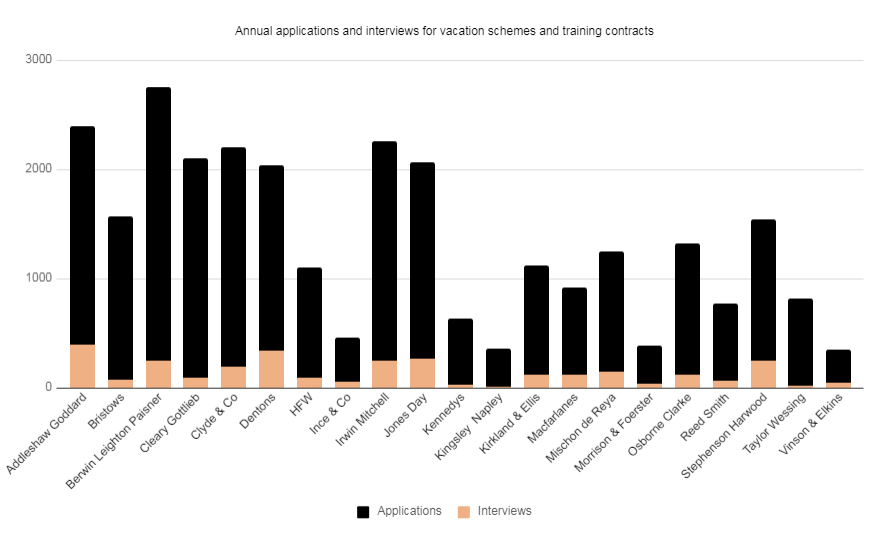 Unfortunately, not all firms submitted their data, so the chart is far from complete.
But it does give you an idea. On average, of the 21 law firms listed above, 12% of applicants were interviewed for vacation schemes and training contracts.
Why so few?
Well, as I'm sure you know, law firms have a relatively fixed number of training contracts to offer each year. For example, let's look at how many training contract places are expected to be available in 2020.
Now, if we tried to combine the figures above onto a single chart, as below, you can barely make out the blue, which now represents the ratio of available training contracts to total applicants.
This is exactly why you need to perfect your application form.
With so many applications and so few available places, the only way you'll be invited to interview is if you learn how how to write excellent applications. Good grades and varied experiences simply aren't enough.
The good thing, however, is that application technique is a skill. A skill that everyone can develop with the right knowledge and lots of practice. By developing this skill, you'll understand how to persuasively sell your experiences and turn your story into a compelling narrative. You'll understand how to convince recruiters of your genuine interest in commercial law and how to clearly distinguish your interest in a specific firm.
This guide will walk you through the steps in detail, but here is the short version, a checklist that we use to provide feedback for our advanced application reviews:
What are law firms looking for?
Most commercial law firms will ask a variant of at least one of the following questions in their application form (and if it's a cover letter, you'll be expected to cover these questions):
Why do you want to be a commercial lawyer?
Why are you applying to our firm?
Tell me about a time you did XYZ… (competency questions)
What current news article has interested you?
With that in mind, we can break down what law firms are looking for into four areas: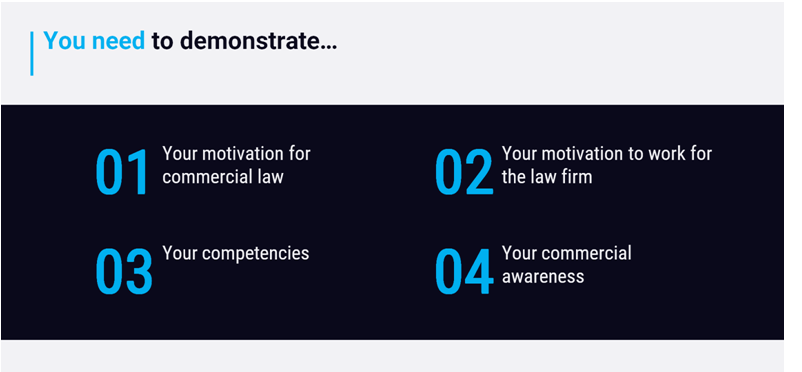 You'll see the competency questions vary because different firms will look for different qualities in their trainees. For example, Norton Rose Fulbright have historically asked in their application form how you work in a team and how you work under pressure. Whereas, Baker McKenzie want to know your opinion about diversity.
Law firms may also test multiple areas in one question. For example, Shearman & Sterling ask you to explain how they maintain a competitive advantage, and Reed Smith asks how they differentiate themselves from their competitors. In answering these questions, you will need to show your understanding of the law firm (which ties into #2 above, your motivation) and you will also need to demonstrate your commercial awareness (your knowledge of how law firms operate as a business).
So, let's examine each of the above application questions.
How do you answer: "Why do you want to be a commercial lawyer?"
Recruiters can learn a great deal from the way you answer this question.
Do you understand what commercial lawyers do?
Which aspects of law interest you?
Which aspects of business interest you?
Do you have legal experience to back up your interest?
Do you find the nature of the work interesting?
Will you stay in the profession for the long term?
Most law firms ask this question in their application form and then again in vacation scheme and training contract interviews.
We find candidates often underweight the importance of this question, possibly because it's such a common question and because it can seem straightforward compared to some of the more challenging commercial questions. Be careful of this; it's one of the most important questions in an application form.
Law firms ask this question because they know how tough the job can be. And they need to be convinced that you're going to survive the long hours. That you will be willing to cancel weekday plans or to work until 2 a.m., according to a firm's needs.
They need to know that you have a genuine interest in the role of a commercial lawyer that'll keep you at the firm when it gets tough. They need to know you've explored it properly, that you aren't just picking this job at random, but that you have gone out of your way to understand what the role entails.
And you don't want to leave them uncertain. If your answer leaves them with doubt, you'll be rejected.
Now, let me run through two common mistakes I have noticed in answers to this question.
Common mistakes
A failure to answer the question
In your "why commercial law?" question, make sure you are directly explaining why you are interested in commercial law and not describing what commercial lawyers do. Recruiters already know what commercial lawyers do, so you don't need to tell them again in your application. Instead, you want to demonstrate your understanding of what commercial lawyers do implicitly: allow the recruiters to infer your understanding of the profession by writing about why you want to be one.
Sometimes, you can get around this problem without having to completely change your answer. Instead, try adding a few words to the start of your sentence, such as "I find it interesting how lawyers do XYZ…because….".
You tell me which aspects of commercial law interest you, but you don't expand on why they interest you.
In order to turn your answer to this question from good to great, each of your points need to be fully developed. A good test for this is to review each of your points and ask yourself: "Why?". If your answer to: "Why?" isn't covered in the body of your answer, you should rethink. Have you fully explained your points? Are you assuming the recruiter will understand the reasons behind your points? So, for example, if you want to mention a firm's new performance-based bonuses, don't just say how you were impressed by the bonuses. Explain why. Think carefully: what does it mean to you? Does it show something about how the firm rewards hard work? Is it another demonstration of how the firm uses innovation to attract the best lawyers?
Likewise, back up your points with specific reasons e.g., "I became interested in the business side of commercial law when [I learned about XYZ when running my university society. These elements of business interested me because XYZ…"
So, what should you do?
Well, I can't tell you why you want to be a commercial lawyer. But I can give you a few ideas.
You can substitute work experience with competitions or societies, or anything you were involved with that introduced you to the practice of commercial law.
Or maybe you want to talk about the aspects of commercial law you find interesting. And that's also  fine if you are clear on which aspects interest you and why they interest you.
The more you think about this answer the better. Your answers will come across as genuine and they'll stand out because they're personal to you. Trust me, I can't tell you how many applications start with: "I want to be a commercial lawyer because I am interested in law and business."
You can use our fillable PDF below to help you to think about this question.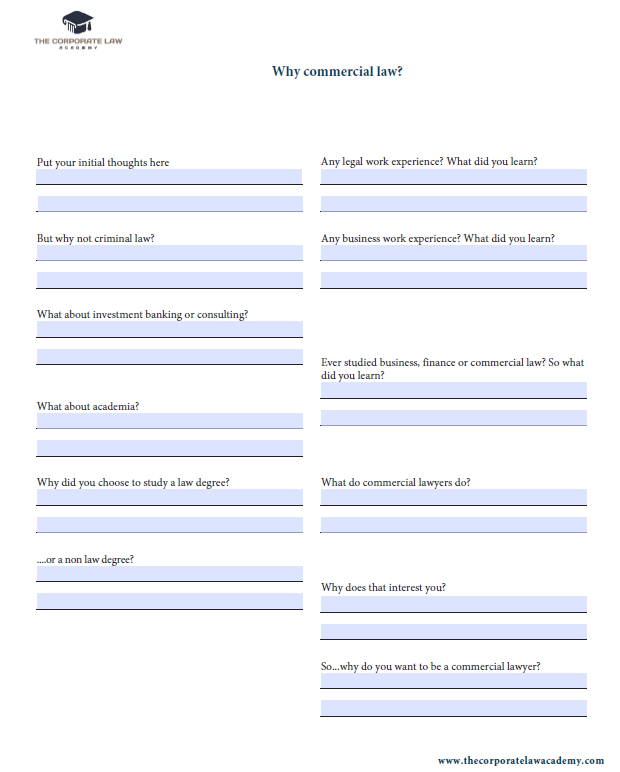 In my experience, strong applicants answer this question with two to three points. In each point, they use evidence to explain why they are interested in commercial law. At no point am I left asking: So what? This is because the applicant clearly links the evidence to his or her interest in commercial law.
How to answer: "Why are you applying to this law firm?"
You'll see this question on almost every vacation scheme and training contract application form. There are two things that you must make clear here:  1) You understand this law firm; and 2) You want to work at this law firm.
Many applicants fall down because they don't answer each part of the question evenly.
Some applicants spend too much time telling the firm about itself. And while it's crucial to show you've researched the firm, your demonstration of research doesn't answer the question of motivation. Why do you want to be there?
Other applicants are clearly very motivated. They are "passionate", "interested in M&A", and "want to work on cutting-edge deals with international clients." But that evidence of motivation doesn't fully answer the question, either. Many, many commercial law firms employ M&A lawyers whose international deals hit the front pages. Recruiters don't want to know why you want to work at a law firm; that's what the other question is for. They want to know why you want to work at their law firm.
There's a quick way to determine whether you've sufficiently tailored your application. Ask yourself: Could your description of the firm apply to another commercial law firm? If the answer is yes, then your answer is too generic.
Let me give you some examples.
Most law firms offer "interesting and exciting opportunities", "international secondments" and "complex work". The applicant needs to identify which specific opportunities and secondments they are interested in, and then explain why these interest the applicant.

This is better. The applicant has identified the firm's M&A practice and international reach as a reason for applying. However, many firms specialise in M&A and being "attracted to the challenges" in M&A deals is too vague. What challenges?  The same goes for mentioning the number of offices a firm has. Many commercial law firms have 20 or more offices; what makes this firm unique? Why do you want the exposure to different jurisdictions and a diverse team?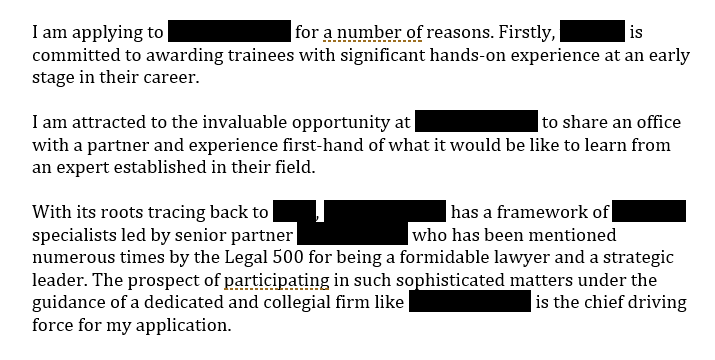 The last paragraph is more tailored.  It is clear the applicant has read about the firm and the information he provides could not be applied to another firm. The problem is the applicant spends too much time describing the firm without explaining why it interests him. The last sentence is then too generic and does not follow from the rest of the paragraph. This is why you want to be careful of how you tailor your application. Some candidates are so keen to show that they've researched a firm that they include all sorts of facts about that particular firm in their application. But showing that you've read about some esoteric deal or a series of awards doesn't make your application any stronger.
So, what makes a good answer to this question?
The strongest candidates find an effective balance between these approaches. They lead with their reasons for applying to a particular firm and weave in their understanding of the firm to back up their answer.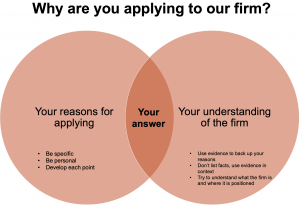 They are also specific with their reasons. I read countless applications along the lines of: "Firm X does interesting deals/headlining transactions/advises prestigious clients. For example, XYZ advised on [insert deal]. I would like to be involved in transactions at the top of the market/I would like to work alongside prestigious clients like this clients".
This is a good example of an average answer. It may be good enough for many firms, especially if you've backed it up with other reasons about the training/meeting the firm, but best case scenario, it won't make your answer stand out, and at worst, it'll come across as very generic. I don't consider it to be a tailored answer – even if you've thrown a deal in there – because the firm could easily be replaced with a variety of other firms.
Likewise, if I'm picking this out, no doubt recruiters are seeing many more answers like this.
Now, you don't necessarily need to scrap the answer. I do actually think it's a genuine reason – you want to work at a big international firm because you'll be involved in exciting deals. Just try to think about how you can be more specific. We'll explore that below.
Did you know we review vacation scheme and training contract applications? We'll benchmark your application against those of the 500+ applications we reviewed this year. Get your application reviewed here.
How do you tailor your training contract application to a specific law firm?
It's tricky. Many law firms use similar language to market themselves, so it's often a struggle trying to differentiate a law firm.
But law firms are very different. They do different work, run their businesses differently, invest in different future strategies and train their trainee solicitors differently.
Here are some examples of the ways you can distinguish a law firm:
International reach
Practice area strengths
Culture
Financials: size/profits per equity partner/growth
Important deals
Clients
Management structure or management change
Partner promotions
Leadership strategy
Recent mergers
Training or development
Lateral moves and recent partnership moves
Growth (internal and external)
Recent profit figures
Innovation
Mergers
Brand reputation
Trainee retention
Technology
Alternative service delivery: offshoring/nearshoring
Size of intake
Competitors
You can also check out this fantastic list from our forum moderator, Alice Gossop:
Let me run through two areas to explain what I mean.
Comparing international strategies
Law firms adopt different strategies to provide an international service to their clients. The image above provides a snapshot of five of those strategies, the left being the least integrated and the right being the most.
Furthest to the left, we have best friend networks. Rather than trying to plant themselves in many different jurisdictions, the law firms that adopt this model leverage strong international relationships with foreign law firms. You can read about how Slaughter and May uses this model in our firm profile. Using this strategy, firms may refer work and share marketing initiatives, but they don't have to be exclusive and firms retain their flexibility to partner with international firms in the region.
Next on the spectrum, we have alliances. These are usually formal relationships with a specific foreign law firm, such as Linklaters' alliance with Australian law firm Allens.
Swiss vereins (and the newer model of using Companies Limited by Guarantee), on the other hand, are how firms like DLA Piper, Norton Rose Fulbright, and Dentons quickly transformed into global law firms. The Swiss verein structure means these firms "merge" with a local law firm, but these aren't true mergers; the law firms share marketing and branding, but they do not share revenue or liability. It's a quick way to gain access to new jurisdictions, people, and expertise, without also taking on many of the burdens that come with a true merger.
Fourth and fifth, there are mergers, where two or more firms combine and share revenue, marketing, people, and liabilities in order to create one new business. In a merger, law firms don't always share a single profit pool to pay partners, because that can be very hard to integrate and may involve a hefty tax bill. But some firms do, as you can read in our profile of Bryan Cave Leighton Paisner.
All this to say, a firm's international approach tells you a lot about a firm, which may well trickle down into your reasons for applying. Is it important for you that a firm operates as a global one stop shop or do you prefer a firm that concentrates on key strategic markets? Are secondments to more exotic locations important to you? Do you want a firm that has a united global brand? These are the kind of specific details that will demonstrate not only your understanding of a firm, but also the fact that you have taken the time to think how these factors will influence your future career.
Comparing practice areas 
This can be a clear way to differentiate firms, especially if you know what practice areas you're interested in. You can then justify your interest in a firm.
For some firms, the strengths are obvious. For example, Weil Gotshal & Manges and Kirkland & Ellis are well known for their private equity work in London.  Herbert Smith Freehills is a litigation heavyweight. Bird & Bird offers a top-ranked intellectual property practice.
Pro-tip: To develop your answer, rather than simply mentioning the rank of a department (we see phrases like: "XYZ firm is ranked tier 1 in X department by Legal 500", try to give some indication of why you find that practice area or area of law interesting.
How do you research a law firm?
One of the best ways to find out what makes a law firm different is to speak to lawyers at open days or firm events. Speak especially with associates and partners, because they can tell you about the nuances that distinguish their firm from a competitor.
Naturally, such direct information-gathering isn't always possible, so the second-best strategy is online research.
Starting point
Chambers Student Guide: An excellent starting resource. It provides a useful overview of the firm, any recent developments or achievements, and an insight into the firm's most significant practice areas. You'll also be provided an insight into the culture within the firm and into what the training is like, from current trainee solicitors.
Roll on Friday: The firm profiles are a very useful – albeit informal – outline. You'll gain a sense of the firm's history, the work it does, and of how it sits in the market.
Legal Cheek: The firm profiles are a good way of familiarising yourself with the firm's culture. You can also search for the name of the firm to find recent news.
Digging deeper
The Corporate Law Academy: Our law firm profiles are focused on what makes a firm different. We run through practice areas, innovation & tech, strategies and growth figures in the law firm insights page.
The firm graduate page: This will give you a sense of what the firm is looking for in candidates. It may also discuss the training programme, secondments, the kind of work you'll be doing, and reasons you may want to join the firm. Try to look for specific information: Do they have a non-rotational system? More seats than normal? A required seat in a certain practice area? A mentorship programme for new trainees?
For example, take a look at Allen & Overy's graduate page:
The firm gives you specific reasons to choose Allen & Overy including its international work, innovative client services and investment in technology.
The firm's main website: Use this to find out about any awards, recent deals or new investments.
For example, I used to read Allen & Overy's annual reviews, which are conveniently listed on their About page. They provide a subdomain for each annual review, so you can find out their key achievements, investments and strategies over the course of the year.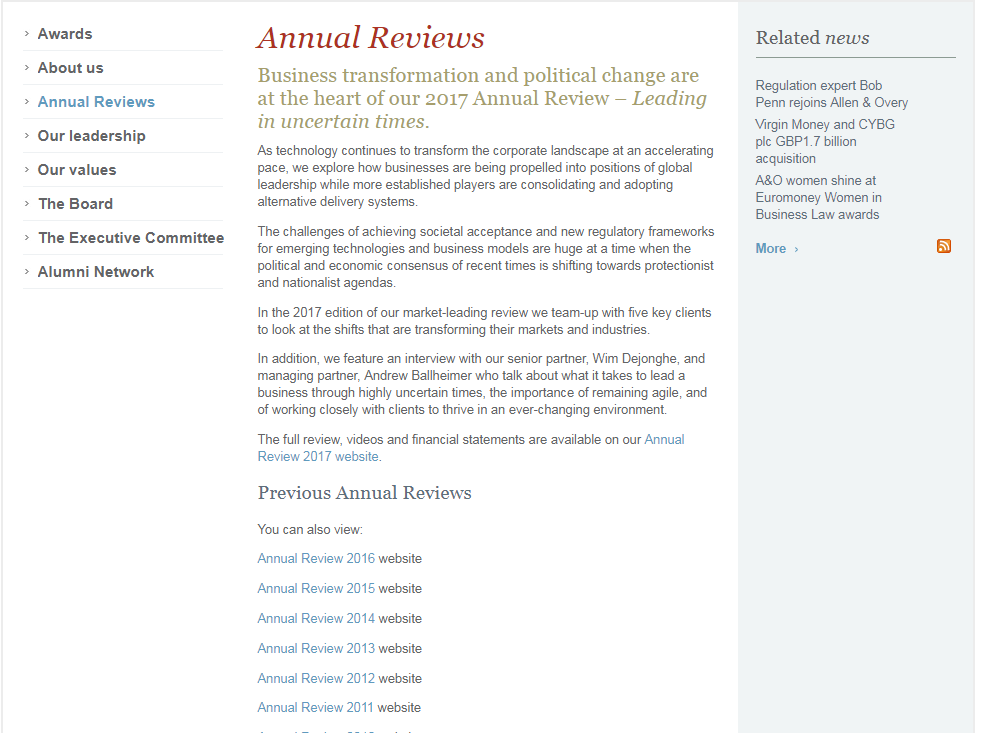 The Lawyer: Useful to learn about firm strategy, recent news and deals. Unfortunately, most of their content has been moved behind a paywall but it's worth checking to see if there is any information available for your chosen firm.
Legal Week: You should be able to obtain access to five free articles. Good information on deals, lateral moves, firm strategy, and international plans.
Practice areas
Legal 500 and Chambers and Partners: Use these websites to determine the firm's strongest practice areas (where they rank highly) and how they compare to their competitors.
You can use our fillable PDF to make a note of the information you find: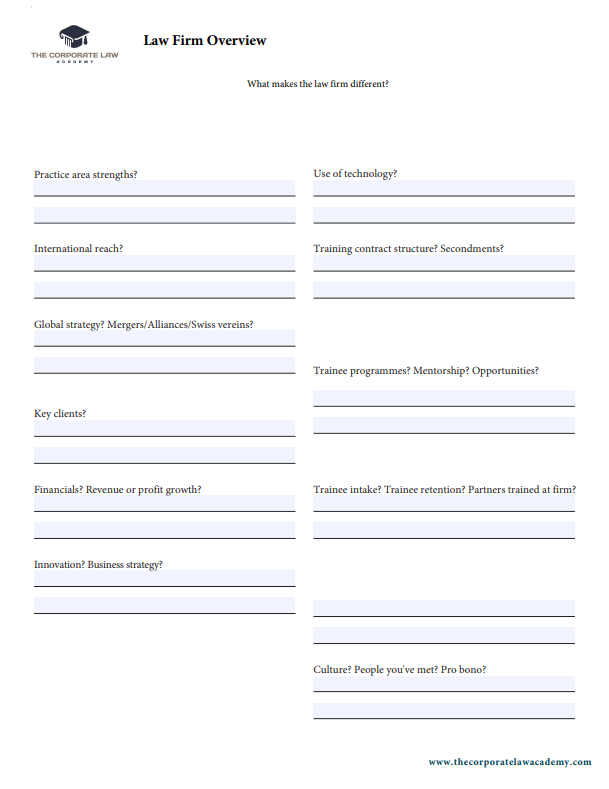 Deals:
Navigate to a firm's "experiences" page on the website
IFLR 1000: aggregates a variety of content for a particular firm, including its recent deals.
How do you find the competitors of a law firm?
Many application questions require you to understand, or at least acknowledge, a law firm's competitors. These are through questions such as:
Who are our competitors and how do we differentiate ourselves?
How do we maintain a competitive advantage?
How would you pitch our unique selling points to a client?
To find a competitor, the easiest place to look is to identify a firm's core practice areas and compare the firms within a similar bracket as ranked by Legal 500 and Chambers & Partners.
Note, this isn't a full proof method, and you should do further investigation into a firm (check out websites like Chambers Student as well as the firm website) to work out if the type of work a firm does seems to cross over.
Practice area also isn't the only factor you can use to compare firms. It just depends on which firm you are looking at. E.g., if you were looking at Baker McKenzie, which other firms have sought to develop their global brand? If you were looking at Shearman & Sterling, which other foreign firms have long had a presence in the Middle East? If you were looking at Linklaters, which other firms have sought to build a deeper presence in China? If you had White & Case, which other US firms have built such a sizeable London presence?
You get the picture. The point is that unless the question is: "Who are our main competitors?", you have a fair bit of scope to choose a firm's rivals. Use this to your advantage; it will allow you to really narrow down the reasons why a firm is competing with another firm.
Let me show you how I used the above sources to answer this question for the law firm DWF.
Where is DWF positioned? As a starting point, I'd need some idea of where the firm positions itself. A quick Google search tells me that DWF is headquartered in Manchester, with 13 locations in the UK and Ireland. It was originally a regional firm, then it became a national firm, and now it's on a pretty aggressive international expansion drive — but most of the work still comes from the UK. So, I know to look out for firms that are significant national players.
Check practice areas. Legal 500 tells me that DWF ranks highly for insurance work, especially personal injury (on behalf of defendants). I check the insurance practice area page for DWF and it confirms:  "We're one of the largest specialist insurance teams in the UK and regarded as a national heavyweight." Ok, so I know it's big on UK insurance work: I should look for other national firms in this sector.
Who else is big on UK insurance work? I check Legal 500 and Chambers and Partners and make a note of the firms ranked above and below. Firms like Kennedy's, DAC Beachcroft, Browne Jacobson, and Clyde & Co pop up. DWF isn't necessarily direct competitors with all of them — some firms may be much larger and some may be more specialist — but they are ones to flag up.
Any other practice areas? I check Chambers Student Guide, which mentions that DWF is also good for banking and finance outside London and offers a range of commercial practices in the north. Chambers and Partners ranks it highly in employment and litigation in the NorthWest along with firms like Addleshaw Goddard, DAC Beachcroft, Hill Dickinson, and a few others.
Who are their clients? I'd also check the legal news to see who their clients are/whom do they share their legal panels with? You can then see which firms serve the same market.
Where do they hire from? Where are their lateral hires from? Which firms do partners exit to? If there are a lot of people coming from, or exiting to, certain firms, then these firms may well be competitors.
If you are then asked in the question, how is our firm different to our competitors, you may want to consider:
Both firms may excel in one practice area, but does your chosen firm also lead in
another practice area?
Do the firms have different international strategies? Or a different global presence?
How do the firms invest in innovation and technology?
Does the firm prefer to promote its partners from within the firm or does it laterally
hire partners? Or a combination of both?
Are the training programmes different? Does the firm offer a different seat structure? An MSc qualification during the LPC? A mentoring scheme?
If the question is: "How is our firm different to the other firms you are applying to?", then you can also use personal reasons to justify your answer. For example, have you met the firm before? How did that influence you?
How do you answer competency questions?
As I said above, different law firms are looking for different competencies, and this will be reflected in the questions they ask on your training contract application form. In their traditional form, these questions begin:  "Tell me about a time when…" and ask you to describe an experience in which you demonstrated a specific competency, such as leadership or communication.
This is an important reason why you should be careful before copying pasting competency answers, even when the question appears similar.
For example, with questions like: "Describe a significant challenge you have faced and how you overcame it", a firm is looking for evidence of your resilience. Law firms want to hire candidates who will be there in the long term, who can overcome challenges on a daily basis, and who can still operate at a high level.
If another firm asked you: "What is your proudest achievement and why?", you might think your answer to the question above would also fit well here, and the example may fit just fine but, importantly, the emphasis is different. For this question, you need to go beyond discussing the challenge and break down why it was your proudest achievement. The more personal you can be, the better. These types of questions are looking to learn more about you and your character rather than just the skills you have. Many candidates do not spend enough time on this part of the question, which means they lose out on the opportunity to show a firm their personality.
How to structure your answer
For most training contract application questions, you can structure your answer the way you want. But for competency questions, both in the application form and interview, I'd recommend you use a method to structure your answer. The most popular methods for training contract applications include the STAR method or the CAR method, as explained below: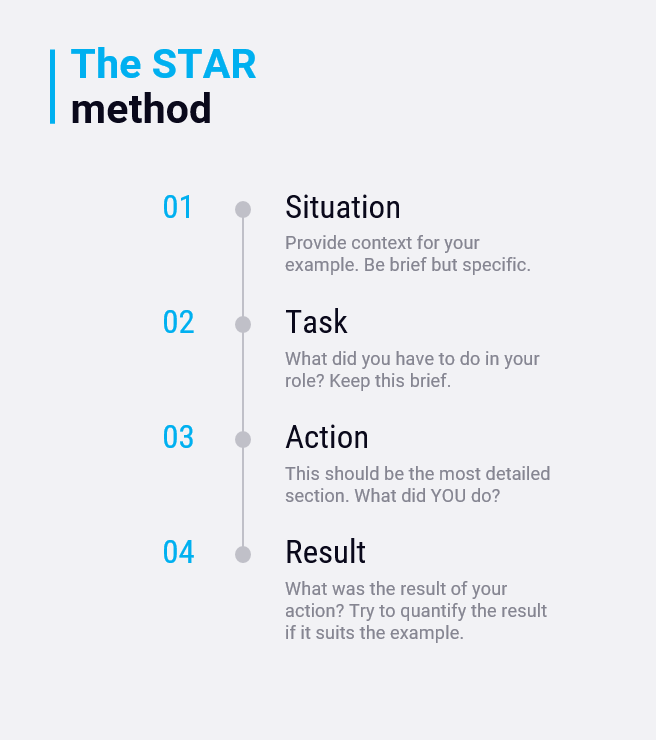 [/one_second][one_second]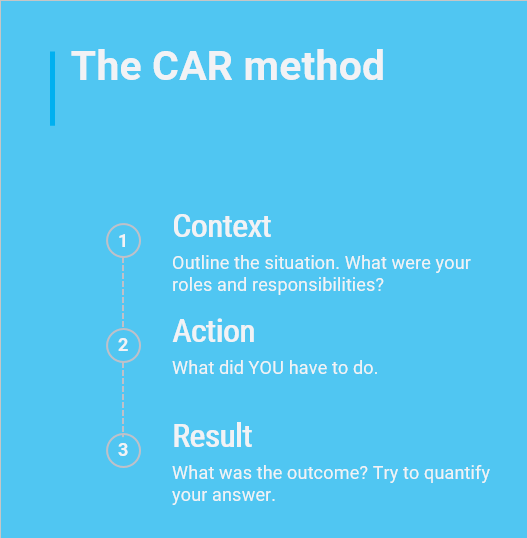 [/one_second]
Personally, I prefer the extra step in the STAR method, but both work well. The point is they keep your answers focused on the most important aspects of your experiences. So, in the limited word count of an application form, or the short space of an interview answer, you can best sell your experiences.
Let me give you an example of how I used the STAR method in one of my successful training contract applications. The image below is taken from my training contract application to Allen & Overy. The questions asks applicants to describe a "recent challenge" they have faced, and explain how they responded to the challenge as an individual.
Looking back on it now, it's far from a perfect answer, but it should give you an idea of how to employ the STAR structure.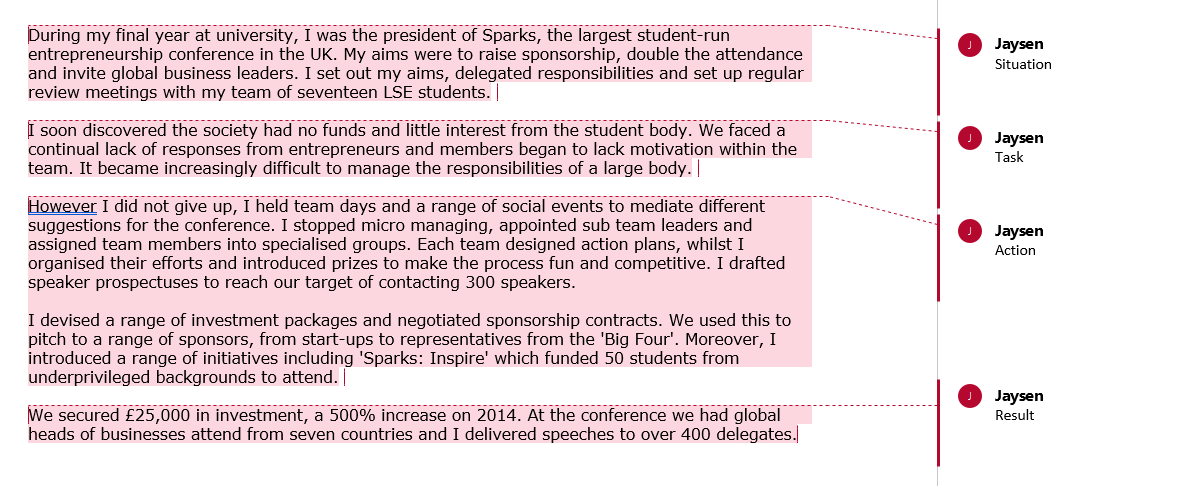 Choosing examples for your competency questions
I often hear from students they're struggling to find examples to use for their competency questions. However, it never turns out to be the case that they don't have enough experiences. Rather, they don't believe their existing experiences are interesting enough to write down.
Don't fall into this trap. You don't need to write down experiences that you think are impressive to law firms. You just need to talk about what you've already done. The best answers come from students who haven't tried to fit the mould. They show personality by talking about an experience that is interesting to them. And that could be from a university society, a weekend job, or a role in a volunteering organisation.
If there are multiple competency questions in an application form, you should use different examples to answer each question. You can use our fillable PDF below to think about how your experiences apply to different competency questions.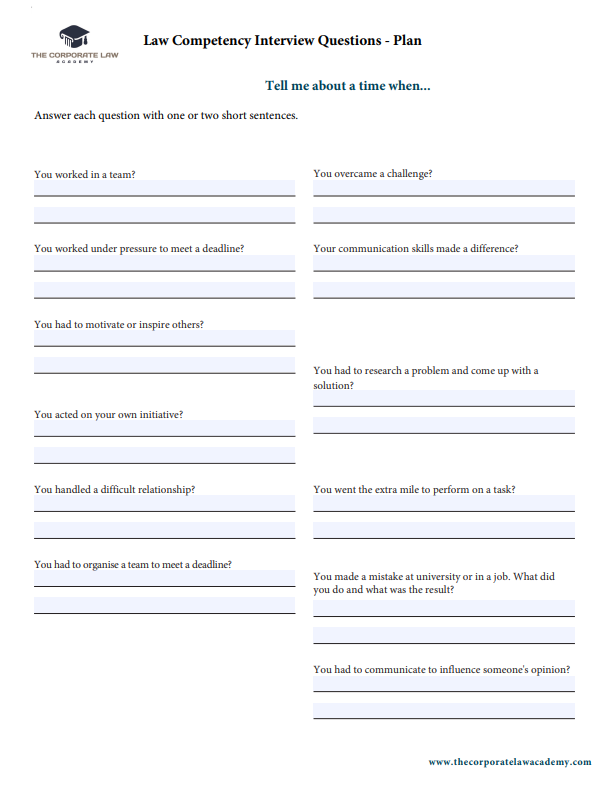 How do you turn your application from "good" to "great"?
After reviewing many applications over the past few years, I have identified several areas that distinguish the average to excellent applicants when it comes to selling their experiences. They won't take long to implement and if you do it well, it should make a substantial difference to your application.
It comes down to improving your writing skills, but while they do have a lot of general applicability, they most directly apply to application writing.
Why is good writing important for an application?
You could possess a first-class degree, have secured multiple vacation schemes, and have rowed for the Olympics, but if you write poorly, you'll be rejected.  This is because your ability to write well is very much part of the assessment process.
Conversely, good writing makes an application stand out. It makes your personality shine through, raises your credibility, and most of all, is enjoyable to read. That's refreshing, especially for a recruiter who has slogged through piles of similar application forms.
Good writing in an application form is not what you might think. It's not about your mastery of vocabulary.
In fact, good writing is created from the qualities that are the opposite of lengthy words wedged into painfully complicated sentences:  Simple writing makes your point effectively and compellingly. Effective application writing is simple, direct and memorable.
In my application reviews, most of my comments follow these lines. Shorten this sentence. Delete this word. Cut this paragraph.
Most students are used to writing essays, but in an application form, your writing style needs to be different. You must talk about yourself, your motivations and your experiences. You've got to be clear and precise. You can't waffle.
The good thing is, this type of writing is something you can easily practice — and if you do, it'll make a substantial difference to your applications. The best applications I've read aren't the ones with the most impressive experiences or grades, but the ones that are well-written.
So, what do you need to do?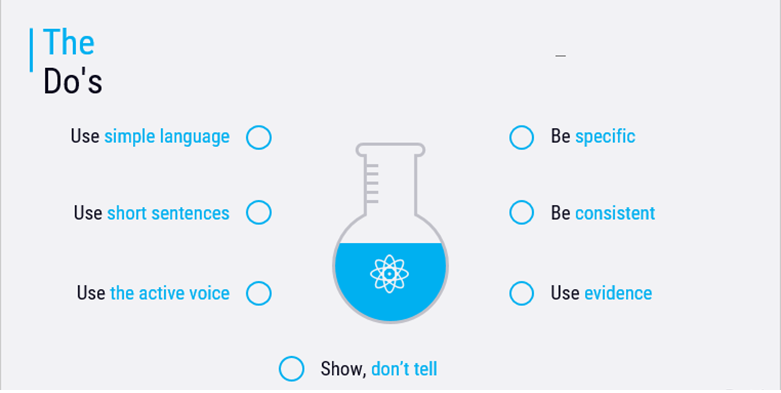 Use simple language and short sentences
Don't use a big word if a simple word will do. Long words make your answers hard to follow, easy to misinterpret, and less impactful. The impact of your writing is important, because your application form needs to be persuasive. And making an impact with your writing will help yours to stand out from the thousands of other applications.
You should also avoid long, complex sentences. For example, take a look at this sentence in a recent application form I reviewed:
The sentence is clunky and unclear. The applicant should instead write one sentence for each point, and should back up each separate point with convincing evidence.
Use the active voice instead of the passive voice
What is the passive voice? It's when the subject of a sentence is acted upon by the verb. In other words, the person or thing responsible for the action doesn't come first in the sentence.
For example, I've seen these phrases in recent applications:
"M&A has long been the subject of my interest because…"
"The society was set up by us in June"
"Boxing training became necessary for me five days each week"
In these sentences, you are not the focus of the sentence and it's hard for a recruiter to identify what you or your team did or what you were interested in.
When you use the active voice, you can be the focus of the sentence. The subject directly performs the action.
For example:
"I am interested in M&A because…"
"We set up the society in June"
"I train five times a week for boxing"
Your sentences are clearer, easier to read, and typically more concise, when written in active voice than when written in passive voice.
Show, don't tell 
If you just write that you are good at managing your time under pressure and are organised, that doesn't tell a recruiter much. In fact, the recruiter has no way of knowing whether or not it's true. Furthermore, the recruiter has almost certainly read the same banal claims in several score of applications already this morning.
This is one of the most common mistakes candidates make. They write in their answers to the extra-curricular activity/positions of responsibility question: "I did XYZ and this developed my attention to detail and leadership skills". Instead, you should focus on what you did and let the recruiter infer what skills you developed. If you write a specific and interesting anecdote that describes how you prioritised the most important issue of each day and made use of a to-do list to stay on top of tasks before an important conference, then the recruiter has proof in hand of your impressive abilities. This is a much more convincing and memorable way of presenting your qualities. And, of course, this presentation makes for more interesting and palatable reading for the recruiter.
Be specific
This applies to all the questions in the application form. If you want to write that the people at a law firm convinced you to apply, mention who (if you remember), and offer details regarding what they said.
If you're talking about an achievement, end your description with an outcome or results — ideally something that's quantifiable, such as how much money you raised or how many people joined.
If you're talking about how legal work experience introduced you to commercial law, explain where you worked and what you found interesting.
Be consistent
Check that your references to roles and titles are consistent throughout the application. Should you be capitalising "treasurer"? Is it the "Business & Investment Society" or the "Business and Investment Society"? You should also keep an eye on your tenses, especially when talking about past and present experiences.
Use evidence
Use evidence to back up your reasons for applying to a firm, wanting to be a commercial lawyer, or demonstrating your competencies. Evidence removes doubt in a recruiter's mind and adds credibility to your statements.
What to avoid when writing your training contract application
Avoid cliché and informal language
I see a lot of clichés in application forms. Students are "passionate" about commercial law, they are applying with "great enthusiasm" because the law firm provides an "invaluable opportunity" to work with "high-profile clients." These words and phrases are vague and unconvincing. Worse, these words and phrases are ubiquitous, and will do nothing to draw attention to you. Try to identify these clichés and replace them with precise words and phrases.
Typos and mistakes
Some recruiters won't forgive one or two typos. Typos suggest a lack of effort and lack of attention to detail. So, you should always leave time to proofread your application. I'd suggest you print your application off and scan it with a highlighter. You're more likely to pick up on mistakes when your text is in a new format. If possible, ask someone else to take a look at your application for spelling, punctuation and grammatical mistakes, or submit a final draft of your training contract application to us for a review.
Don't write to impress
It comes across as disingenuine if you rely on flattery to answer the question: "Why are you applying to our law firm?" Instead, you should use evidence to justify your reasons for applying. Indeed, factual evidence, well-chosen and well-presented, can be even more flattering than are generalities that could apply to anyone's firm.
The same goes for other application questions. You don't need to write about your love for residential mortgage-backed-securities if you are to convince a law firm you want to be a commercial lawyer.
Unnecessary words, sentences, and punctuation
Every word in an application form should be included for a reason. Applicants write they are "very interested" or "heavily enticed" in XYZ. These adverbs add nothing. Or worse, they detract from the points you are trying to make. When you review your applications, you should ask yourself:  Does this word or sentence add to my application? If not, delete it! The edit will tighten up your writing. Concise is good!
The same applies to punctuation. Colons, semi-colons, and dashes can work well if they're used correctly. But if your application is littered with incorrect punctuation, it's distracting and unconvincing.
Let's look at an example. Below is a mock application answer we've drafted. About 60% of the applications we receive look something the below. (Note – we made our own typo with the word "maker" – we're not perfect either!).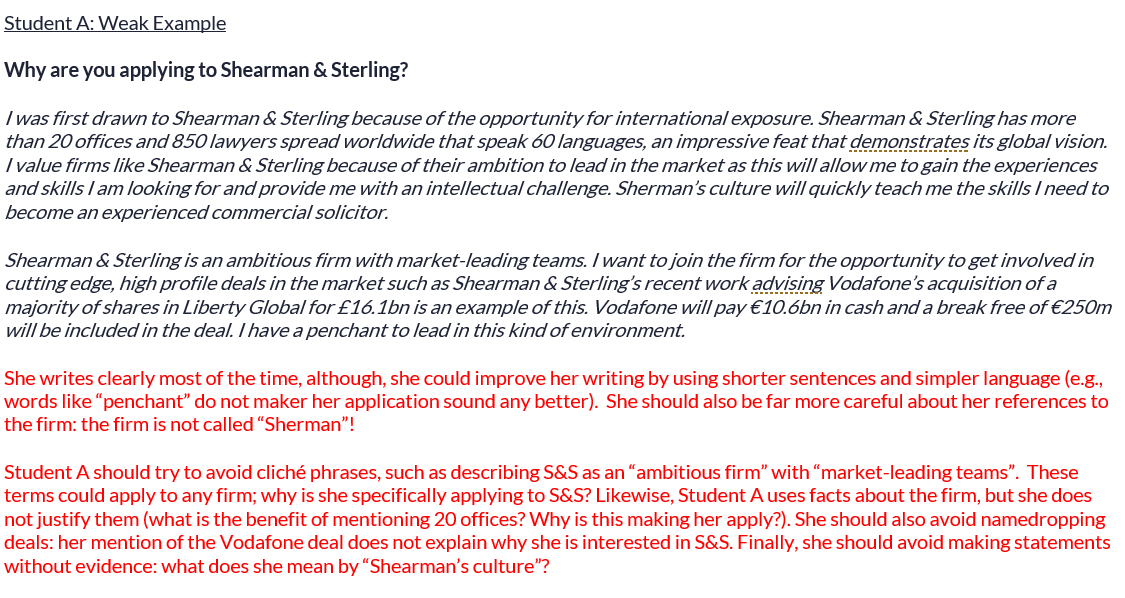 [divider height="30″ style="default" line="default" themecolor="1″]
Final Thoughts
It's training contract application season.
Forget about whether your grades or your experiences are "good enough".
Focus on what you can control.
Take the time to tailor your training contract applications. Think carefully about why you want to be a commercial lawyer. Edit your writing so it's easy to read.
Make your next application the best you've ever written.
Do all this and you'll significantly raise your chance of securing a training contract interview.